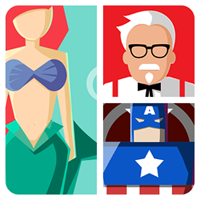 Welcome to the Icomania world!!!
In this icomania icon quiz game, you will have more than 900 cartoons to quiz, they are all imaginative and handcrafted cartoons! Can you guess all the pop icons? Try this Icomania game! It's Free!
A man and a woman was riding on a deer in a snowing day, what's this movie? — It's Frozen!
A super hero wearing an American suit and arming a shield, what's this character? — It's Captain America!
…
There are more than 900 icons for you to quiz! The icons includes TV & Movies, Characters, Famous People, Country, Cities, and Brands.Come and try this icon pop quiz game, Icomania Icon Quiz!
Playing Icomania Icon Quiz is pretty simple: you see an icon and you're shown a series of 14 or 16 scrambled letters, out of which you have to guess a word that you associate with the icon.
We now present you the new puzzle adventure – icomania! Download the top trending game on the market for free and begin the icon mania right now!

tag: icomania icon quiz, icomania game, icon pop quiz, icomania icon quiz